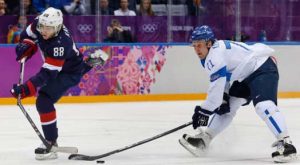 The Team USA Hockey scoring machine once again failed to score a goal. It couldn't have come at a worse time.
The Americans fell, 5-0, to Finland in the bronze medal game at the Sochi Olympics. Teemu Selanne, at 43 years of age and playing in his sixth Olympic games, scored twice to lead Finland to its second consecutive Olympic bronze medal.
After a scoreless first period when the U.S. failed to convert three power-plays, Selanne scored his first goal 1:27 into the second. Jussi Jokinen scored on a pair of beautiful passes from Jori Lehtera and Petri Kontiola just 11 seconds later to give Finland a 2-0 lead.
Team USA had several chances to score, including the two penalty shots awarded, one in the first period and the other in the second. Patrick Kane would fail to score on either. Kimmo Timonen threw his stick at the puck in the first period and Leo Komarov slashed Kane on a breakaway in the second. Finland goalie Tuuka Rask stopped Kane on the first penalty shot. The second got by Rask but rattled off of the right goal post.
The rout was on in the third period as Finland scored three power-play goals. Selanne's second goal at the 9:06 mark of the period made it 4-0. Finland had just nine shots in the period but scored on three of them. Team USA managed 27 shot for the game, but Rask, who didn't play in the semifinal loss to Sweden, stopped all of them for his third win of the tournament.
Finland has now medaled in three straight Olympic Games. They won a silver in 2006, a team on which Selanne was a member. With the two goals, he is now tied for the most goals in Olympic history and is the all-time leading scorer. He also became the oldest player, at 43, to play in Olympic hockey.
Team USA failed to medal after winning the silver medal in Vancouver in 2010. The Americans have not won a gold medal in Olympic hockey since the famed Miracle on Ice team of 1980.