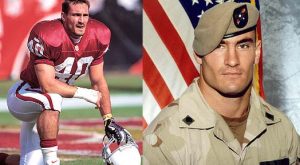 While athletes make many sacrifices to reach their respective levels of play, many have sacrificed even more through the years. On this Veteran's Day, we take a look at some of the many professional veteran athletes who served their country in the military.
After the 9/11 attacks on the United States, Pat Tillman, a strong safety with the Arizona Cardinals, decided to leave the team and enlist in the Army. Tillman became a member of the elite Ranger squadron and served one tour in Iraq before shipping out to Afghanistan. He was killed on April 22, 2004 in a friendly fire incident. He earned a Silver Star, a Purple Heart, and his number was retired by both the Cardinals and his college team, Arizona State.
During the 1970s, the Pittsburgh Steelers dynasty began. One man, Rocky Bleier, probably shouldn't have even been a part of it, but he was. Drafted into the Army and sent to Vietnam, Bleier's platoon fell under enemy fire and he was badly wounded. A Purple Heart and Bronze Star winner, Bleier was told he would never play football again. He became a starter at running back and helped lead the Steelers to four Super Bowl championships.
He won two Triple Crowns, was a 17-time All-Star and was the last player to bat over .400 in a season in the Major Leagues. He also served as flight instructor during World War II and flew 39 combat missions during the Korean War. Ted Williams served in the Navy and Marine Corps for three years during World War II and then went back on active duty during the 1952 and 1953 baseball seasons.
After winning the 1963 Heisman Trophy, Roger Staubach did not head off to glory in the NFL right away. He spent five years, including a one-year tour in Vietnam, serving his country in the Navy. After leaving the Navy in 1969, Staubach went on to win two Super Bowls with the Dallas Cowboys. He was the MVP of Super Bowl VI and is the last player from a military academy to win the Heisman. Staubach is a member of both the college and professional football Hall of Fame.
There are many other famous, and not-so-famous, veteran athletes who have decided to forgo their athletic careers to serve to their country. It is that kind of selfless sacrifice that allows us as fans to witness great athletic achievements. On this Veteran's Day, let's not forget those athletes who served.