Tom Brady Injures Knee In Practice; MRI Negative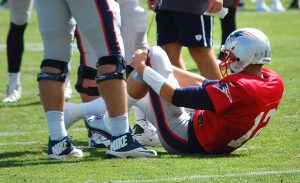 New England Patriots quarterback Tom Brady had to leave practice with what looked to be a knee injury during an 11-on-11 drill on Wednesday. The Patriots were conducting a practice in conjunction with the Tampa Bay Buccaneers when New England offensive lineman Nate Solder was pushed into Brady as he let go a pass that would wind up incomplete.
Brady went down right away and grabbed his left leg. It appeared to be serious, but Brady limped to the sideline under his own power after the play. He sat out one play, went back in and completed three more passes.
When the drill ended, Bill Belichick, the Patriots' head coach , Josh McDaniels, the offensive coordinator and the Patriots' trainer Jim Whalen decided that it was best for Brady not to continue to practice.
Brady did have an MRI done, and the result was negative. He will be re-examined in the morning, but, most likely, will practice on Thursday. Brady is listed as day-to-day.
Tampa Bay defensive lineman Adrian Clayborn bull rushed Solder and pushed Solder into Brady. Clayborn was aware that the Buccaneers defenders were to stay away from the quarterback, but Clayborn's instincts may have gotten the best of him.
Bucs' head coach Greg Schiano, along with Belichick, stressed to his team to rush the passer but go by him and let him throw the football. Schiano said that he did not see what happened.
The injury was a scare for the Patriots and their fans who saw Tom Brady suffer a torn ACL in his left knee in the first quarter of the first game of the 2008 season. Brady missed the entire year.
Brady is scheduled to practice Thursday. The Patriots will play Tampa Bay in their 2nd preseason match this Friday at Gillette Stadium. There has been no decision on whether or not Brady will play. Ryan Mallett, in his third year out of Arkansas, is the backup quarterback and Tim Tebow is listed as No. 3 on the depth chart.
Most Recommended