Tyron Smith A Family Financial Affair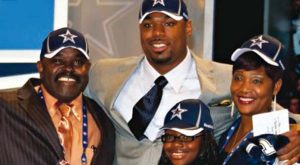 When Tyron Smith was selected with the ninth pick in the 2011 NFL Draft, he was elated to have achieved one of his childhood dreams. He was about to become a professional football player. Little did he know his family had dreams of their own.
Smith, an offensive tackle who played his college football at USC, signed a four-year, $12.5 million rookie contract. He wanted to help take care of his family and agreed to make four installment payments to his mother, Frankie Pinckney, and stepfather, Roy Pinckney. Smith soon learned it would not be enough.
His family began hounding him for more. "There was a certain amount I agreed to give them, but it went way beyond that and I was just like, 'I'm done,'" Smith said. The 6-foot-5-inch, 308-pound starting left tackle started to realize that his family was out to get his money. "There was nothing wrong with helping them out and making sure they were taken care of…," Smith stated.
As the family began to ask for more and more, things started to get more and more bizarre. When Smith declined to grant his mother's and stepfather's demands for more money, Smith and his girlfriend, Leigh Costa, were threatened. In October of 2011, Smith's rookie season, two of Smith's sisters from California showed up at his Dallas home. Smith was with the Cowboys at the team hotel preparing for a game against the New York Giants but Costa was home. It was Costa who was confronted by the sisters, who stated they were there entirely for financial gain. Costa wound up having to call 911 to have the sisters removed from the property.
Smith and his attorney, John Schorsch, eventually had to file a restraining order against the Pinckneys. Tyron Smith was to have no contact with his mother or stepfather. Last season during training camp, a brother that Smith had not spoken to in a long time had to be removed from the Cowboys' facility by security.
And if that wasn't enough, Smith found out that over $1 million was missing from his accounts after hiring a financial advisor recommended by his parents. Frankie Pinckney claims that she had nothing to do with the missing money. When Smith was moved from right to left tackle for the 2012 season, he sent a text message to his parents informing them of the news. Their response mentioned no congratulations only references to Smith's next contract.
Even for all he has been through, Tyron Smith, a soft-spoken and considerate young man, has said he is open to reconciliation with his family. "If all the incidents stop," Smith said, "and they just give me the space that I've asked for.
Smith has learned a lot since entering the NFL and has advice for any incoming rookie. "The takeaway from this is don't let people take advantage of you," says Smith. "And it's all right to say no to certain people."
Most Recommended