Upset Saturday In College Football Shakes Up Top 25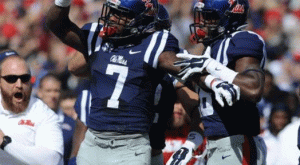 It was just another college football Saturday until five of the top 10-ranked teams in the country lost. While top-ranked Florida State took care of business with an easy 43-3 win over Wake Forest, fans knew they were in for quite a weekend of football when No.2 Oregon lost to Arizona on Thursday night.
For the second consecutive year, head coach Rich Rodriguez and the Wildcats defeated the Ducks. Surprisingly, Arizona did it in Autzen Stadium, where Oregon is virtually unbeatable.
Prior to Saturday's game, No. 18 BYU was upset by Utah State, 35-20, on their home field in Provo. Cougars quarterback Taysom Hill, one of the nation's best dual-threat QBs, was lost for the season after breaking his leg late in the first half.
On Saturday, the fun began when No. 12 Mississippi State took on sixth-ranked Texas A&M in one of three big games in the Southeastern Conference. Bulldogs QB Dak Prescott completed 19-of-25 passes for 259 yards, ran for 77 more, and scored five touchdowns to lead Mississippi State to a 48-31 rout of the Aggies.
Already buzzing from the MSU win, the state of Mississippi continued to buzz as Ole Miss, ranked No. 11, took on third-ranked Alabama in another SEC battle. Head coach Hugh Freeze, who has led a resurrection of the Rebel program, helped Ole Miss secure its biggest win in decades.
After Jaylen Walton scored the game-winning touchdown on a 10-yard pass from QB Bo Wallace, Senquez Golson intercepted Alabama quarterback Blake Sims in the back of the end zone to seal the 23-17 victory.
It was the first time in college football history that both Ole Miss and Mississippi State defeated top 10-ranked opponents on the same day. Both schools are now 5-0 and 2-0 in the powerful SEC West. Tied for the lead in the West is fifth-ranked Auburn, which took care of business with a 41-7 drubbing of No. 15 LSU.
Fourth-ranked Oklahoma could not pull away from No. 25 TCU and wound up on the short end of a 37-33 defeat. TCU's Paul Dawson intercepted OU QB Trevor Night and returned it 41 yards for the game-winning touchdown early in the fourth quarter.
Upset Saturday was capped by a Pac-12 beauty as Utah beat No. 8 UCLA with a 29-yard field goal by Andy Phillips with just 34 seconds to play. Utah led 24-14 entering the fourth quarter but squandered the lead as Bruins QB Brett Hundley hit Eldridge Massington with a 40-yard TD pass with 4:50 to play to take a 28-27 lead.
Utah then used 4:16 to drive 63 yards to set up Phillips's field goal for a 30-28 win capping off an amazing day of college football.
Most Recommended