US Olympic Hockey Team USA Advances To Semifinals With 5-2 Win Over Czech Republic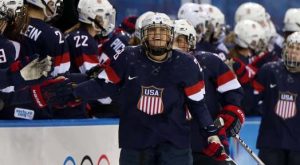 Dustin Brown knocked in the go-ahead goal at the 14:38 mark of the first period and Team USA never looked back on their way to a 5-2 victory over the Czech Republic on Wednesday. With the win, the Americans will advance to the semifinals of the Olympic hockey tournament on Friday against their northern neighbor, Canada.
This will be Team USA's third trip to the semifinals in the last four Olympic Games. This semifinal will be a rematch of 2010's amazing gold medal game, won by Canada in overtime.
Against the Czechs, Team USA got going quickly. James van Riemsdyk scored less than two minutes into the game on assists from Patrick Kane and Ryan Kesler. Alex Hemsky, who scored both Czech goals, scored his first at 4:31 of the first period to tie the game at 1-1. From that point on, the Americans dominated.
The rout was on when David Backes scored with just two seconds left in the first period. A shot by Ryan Suter was deflected wide to the right side of the net. Backes, from an almost impossible angle, lifted the puck up over Czech goaltender Ondrej Pavelec to make it 3-1.
Zach Parise scored in the second period and Phil Kessel added a third period goal to complete the scoring for the U.S. Hemsky scored his second goal late in the third period to set the final score.
The U.S. now gets its nemesis, Canada, in the semifinals. The Canadians struggled in their quarterfinal win over Latvia. Team Canada escaped with a 2-1 victory. Team USA has now won its four games by a combined score of 20-6. Kessel leads the U.S. with five goals and three assists. He is outscoring all of Canada's talented forwards, who have combined for a total of two goals in the Olympic tournament.
Team USA won the silver medal in both 2002 and 2010. Each time they lost to Canada. The last time the Americans won a gold medal in Olympic hockey was the "Miracle on Ice" team of 1980.
Most Recommended