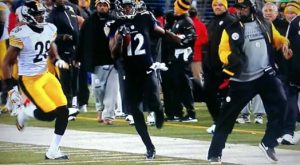 The NFL will likely penalize Pittsburgh Steelers head coach Mike Tomlin for his actions on a kickoff return by Jacoby Jones in last Thursday night's 22-20 loss to the Baltimore Ravens. Tomlin was almost in the field of play as Jones was returning a kickoff deep into Steeler territory. Jones appeared to cut back to avoid a collision with the Steelers head coach. Whether or not Tomlin was there deliberately may never be known, but the league will likely take action.
Tomlin, who stated that he always watches returns on the Jumbotron scoreboards, was in the white area of the box on the Steelers' sideline. Coaches and players are to be behind that white area, which is for officials. In the replay of the incident, an official has to run behind Tomlin. That official should have thrown a flag for, at the very least, a sideline warning against Tomlin and the Steeler bench.
Jones, who had beaten the entire Steelers cover team, looked like he was on his way to the end zone but cut back and, as a result, was caught and tackled by Pittsburgh's Cortez Allen. Baltimore would ultimately go ahead 22-14 in the fourth quarter. The Steelers would score in the final minute on a Ben Rothliesberger to Jerricho Cotchery TD pass. Pittsburgh would fail on the two-point conversion and Baltimore earned its sixth victory of the season.
The event with Tomlin brings back memories of Sal Alosi, the New York Jets assistant who stepped off the sidelines and actually tripped a Miami Dolphins kick returner. Alosi was fined $25,000 and eventually fired. The Jets organization was fined $100,000 by the league. Alosi was not the high profile coach that Tomlin is, and his actions were more deliberate.
Even so, the NFL will look to send a message to coaches or staff having any inkling of stepping off the sideline to interfere with a play. It is reported that Tomlin may receive a six-figure fine and the Steelers might be penalized with the loss of a late-round draft pick in next year's NFL Draft. If so, it would certainly send a message to a coach who, ironically, is on the NFL's Competition Committee.