Couples Porn to Spice Up Your Sex Life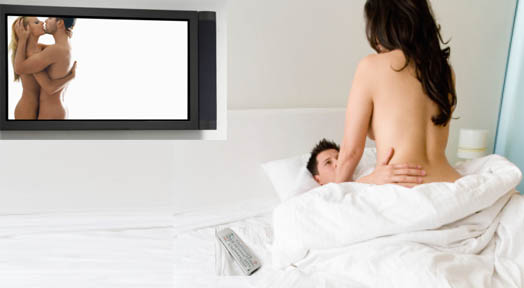 Do you love your relationship but not your sex life? Do you find yourself wishing you could share your love for porn with your girl? Well, now there is a solution!What is couples porn and how to use it to
spice up the bedroom
Couples porn was invented for a reason gentlemen, and if you can't use it to get to your girl hot then there isn't any hope for you. Just kidding. But in all seriousness, couples porn can be a great way to heat things up or to get it going. All you have to do is know how to approach the subject with your spouse/girlfriend to get the ball rolling.
Do women like it?
Women are fickle creatures. They love to proclaim how much they hate porn but in reality a good portion of them watch it themselves! Although, a Pew research survey came up with only 8% of women watching porn, the numbers are actually much higher. In fact, the generation of women who enjoy porn the most are millennial's aged 18-24. So if you are in your thirties chances are your girl likes to watch pornography too. So how do you bring couples porn up to your girl and can it really spice up your love life?
According to a nonscientific poll conducted by Ann Summers lingerie, woman who watch porn feel more confident asking for what they want in the bedroom. If you want your girl to be less of a cold fish and more of a, eh, self-starter then encourage her to watch porn. It can also bring you together as a couple and increase your commitment to each other, per results of the poll.
Learn something new
Porn also has a way of teaching you new things, or at the very least making them seem less taboo. When we watch porn our brains are actually studying the movements of both of the bodies on screen and trying to size up our own moves. When you watch it together as a couple you are thinking about each other and how good that particular position would feel or how exciting it would be to tie each other up. If you want inspiration for fresh ideas during your next sack session then porn might be a good place to look.
So should you try it out?
Watching people get it on is exciting, to say the least, and if you two are sexually attracted to each other it's going to turn you on. Porn has been considered taboo and naughty in our culture for far too long, and the act of watching it together can be just enough to get both of you ready to explode. Because you are doing something 'wrong' and not culturally accepted there is an element of getting away with something dirty. It's pretty damn hot. She will like it if she likes to see you get turned on, and you will like it because, well, it's porn. What's not to like? And your sex life will see a dramatic improvement from boring to exciting just by watching a movie. How awesome is that?
A couple of things to consider when you pick out couples porn:
• Put her fantasies first, ask her what she wants to see
• Don't go after fetish films (unless she wants to)
• Make sure you won't be interrupted during the act
Most Recommended