Oral Sex Guide For Men On How To Please Her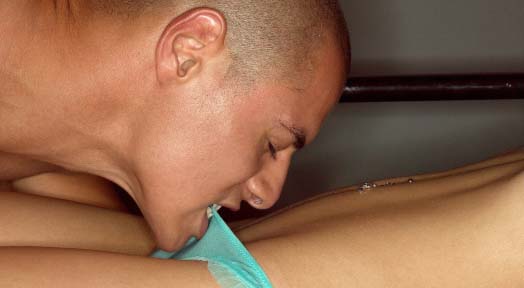 Sex is fun. We get off and it feels great for her. Or so we assume. But the stats are in, up to 50 percent of all women state they cannot have an orgasm from sex alone. That means half of all women you have sex with aren't having an orgasm unless you are going down on them. But fear no more! We have a step-by-step guide for you to give the best oral sex she's ever had.
A guys guide oral sex
Step 1.
Make sure she is relaxed. Women aren't like men when it comes to sex. They are much more self-conscious about their nether-regions. They are worried about how long it will take them to orgasm and even what they taste and smell like. It is hard for them to fully relax. Do your part by telling her she looks beautiful or simply saying "get comfortable".
Step 2.
Get in the prime location. Along with telling her to get comfortable you have to physically make her comfortable. Most women know the position they like, but if she doesn't have a preference situate her with her pelvis off the bed or floor you are going down on her. You can easily do this by putting a pillow under her butt. Also, don't forget to make yourself comfortable as well.
Step 3.
Keep it clean and slow to start. Women hate the feeling of spit all over their vaginas and they also hate the sound of sucking, slurping, and spitting. Keep it clean with gentle sucks and licks to start with. Starting slow will build momentum on her end causing her to be more excited.
Step 4.
Focus on her clitoris but don't be afraid to explore. There are more nerve endings in a woman's vagina than there are in the head of your penis. So before you go flicking away down there be aware that this is sensitive area and it should be treated as such. Don't be afraid to wander from her clit to her vagina by thrusting your tongue inside her then back to stimulating her clit. The variation is very pleasing and creates anticipation for her.
Step 5.
Switch it up. The last thing any woman wants is for you to spend 30 minutes down south doing the same thing over and over again. Instead, switch things up. While you are sucking and licking her clit enter her with your finger. While inside, stimulate her G-Spot by massaging it with your finger in a come here motion. This is bound to make her go wild.
Step 6.
Pay attention to her body language. If she isn't moving, moaning, or excited then whatever you are doing isn't working and you should change it up. The key to all oral sex is to apply constant but pleasurable pressure to her clit while stimulating her G-spot. But above all, make sure whatever you are doing she likes. Don't be afraid to let her move her hips into your mouth and to grind on top of you. The more into it she is the better. Now that's how you give oral sex.
Most Recommended