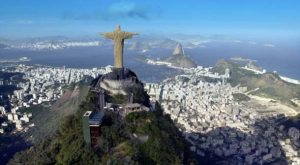 With the World Cup going on in 2014 and the 2016 Summer Olympics down the road Brazil is an ideal place to plan a fitness vacation. Beautiful Brazil makes the perfect environment for melting away stress and other issues as you increase your body's fitness level. It seems that the people of Brazil have recognized just how great the combination can be; from the bustling cities to the lush Amazon rainforest there is a little something to please any fitness junkie. Read on to learn more about taking a Brazilian fitness vacation.
Of all the popular tourism destinations in South America, Brazil ranks second for receiving incoming international travelers and the tourism industry of Brazil continues to grow every year. The majority of the tourists that arrive in Brazil are not looking for a fitness vacation, but a regular, good old relaxing time. This is something that Brazil is up to the task of providing. Its white sandy beaches like IPanema are great places to take in the landscape and the beautiful people. You can't mistake the wondrous music-filled cities and the world's largest Carnival in the streets of Rio De Janiero that makes it a world-renowned tourist attraction. Being the fifth largest country in the world by both size and population, there is an endless amount for visitors to discover.
But, the real point behind a vacation is to rejuvenate one's mind and get away from the ordinary for a while. Basically, people go off on vacation to take a break from their everyday lives in the hopes of returning energized and more effective in their work than ever before. To really get this benefit from a vacation, some focus on health needs to be made and this is what has inspired many to opt for a fitness vacation.
A fitness vacation is not as much work as it seems. Just the name may turn some people off to the idea, but a fitness vacation deals with overall health. Vacationers who go on these trips not only exercise but enjoy many wonderful outdoor activities, such as kayaking, hiking, and so forth. There are spas that specialize in these type of vacations and they offer many great services such as massages, meditation instruction, detox treatments, and healthy menus.
When the beauty of the Brazilian waterfalls and the lush green rainforest are the outdoor setting of the activates done of a fitness vacation, the participants are in for an extra special treat that empowers both body and mind. There are numerous locations those choosing to go on a Brazilian fitness vacation can choose from. There is something there for every kind of person and group. The next time you are going on a leisure trip consider the beautiful country of Brazil.