Is There a Cure for Baldness on the Way?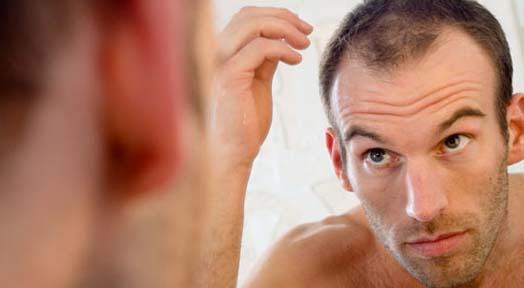 Let's face it, if members of your immediate family are bald or have lost their hair in the past, then the chances are that soon enough, you too could suffer the very same fate as baldness is an ailment that is very much genetic but there are cure for baldness. The big question everyone is asking is there a cure for baldness on the way.
Is there a cure for baldness on the way
Every single day, thousands upon thousands of men all over the world will be in the shower washing their hair, will look down at the plug hole, or into their own hands, and will be welcomed with a site that makes their blood run cold. Yep, we're talking about large clumps of hair that are falling out at an extraordinary rate. Once the hairs begins to fall out, things generally happen pretty quickly, and unfortunately, men can go from having a full thick head of hair, to being as bald as a coot, all in the space of a few years.
Now, if you happen to be losing your hair, and wish that you weren't, then there are a few things you could possibly do. Studies have shown that baldness, as well as being mainly caused via genetics, can also be brought on by acute stress, illness, or even a poor diet.
As far as potential cures are concerned, forget about all these ridiculous sounding mousses and such like, promising you visible results within a fortnight, as most of these are completely bogus. Hair transplants are now available, but they cost a fortune and even then they're not always guaranteed to be successful. Despite this however, there are now very positive and strong signs that a potential cure for baldness could indeed be on the way, and could actually not be all that far away at all.
What are some of the potential cures for baldness?
As we said, it's still early days and nothing is set in stone as yet, but early indications show that there are some extremely encouraging and positive signs pointing to the fact that experts could be close to coming up with a cure for baldness. Just bear this in mind, whichever, or whomever is responsible for coming up with a cure will be unbelievably rich and wealthy as a result. The potential market is simply enormous, so scientists and medical experts have an extra incentive to be working extra hard. One ingredient which could very well be a contender is a protein known only as FGF9.
What is FGF9 Protein
Researchers believe that this protein could possess the ability to reverse baldness and hair loss. They believe this because this very protein is able to generate new hair follicles in mice. Humans obviously aren't the same as mice, but never the less, it's still extremely promising. Stem cells are also looking very promising regarding tackling baldness.
The cosmetics giant L'Oreal, have actually created a shampoo from stem cell matter, known as Kérastase Densifique which allegedly can cause new hair to grow within 90 days of regular use, resulting in more than 1,500 new hairs to be generated. It's still early days yet, but this shampoo is available for purchase so why not try for yourself? Vitamin D is also beneficial for the hair, and studies have shown that it can help to show signs of reversing the signs of baldness in men.
Most Recommended