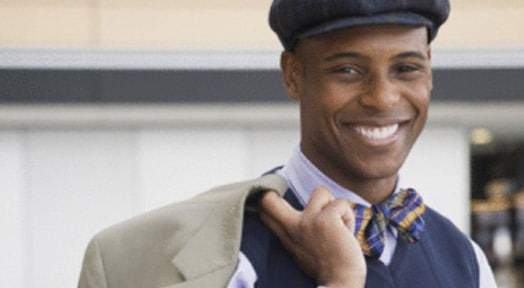 As hipsters have popped back up in mainstream culture they have brought with them their style. They find themselves going against the average fashion trends, and have fused together to create their own style. This same style makes its way into mainstream fashion and has in turn become part of pop culture. It's a ironic cycle of disliking what is popular, turning to their own fashion trends, only to make those popular once again. At the forefront of their fashion is the bow tie. Many men have started wearing it as a fashion symbol to stick out from the stuffy office suit and tie. But there are tons of ways to wear a bow tie but only one way to tie it.
How to Tie a Bow Tie
Bow ties come in many different colors and patterns. Of course, that is useless to you unless you know how to tie one. Here are 5 basic steps you need to know in order to tie your own bow tie.
1. Put it around your neck, and leave the right side an inch and a half lower than the side on your left.
2. Cross the longer section on top of the shorter section.
3. Take the longer section and pass it through the loop creating a simple knot.
4. Flip the section on your right over your shoulder and bend the hanging end in half and hold this fold with your hand.
5. Bring the right section down from your shoulder and drop it over the fold you are holding.
6. Next take the folded end on both sides and pinch it together in front of the section you brought down from your shoulder.
7. Take the dangling end now hanging down in the middle and pass it through the knot you made in step three.
8. Form the full bow by tightening both halves of the tie at the same time. And viola! You are a bow tie king!
What to wear a bow tie with
But now that you've made yourself a tie you have to decide what you will wear it with. Lucky for you it goes with just about anything you can think of. Hot this year is the denim jacket and pairing. It's classy yet still semi relaxed for everyday wear. Of course, the classic pairing is suspenders. Wear suspenders with khaki pants, a white shirt and you have fail proof outfit for any night of the week. Your best options for style pairing are:
• Keep it casual.
You can easily do this by pairing it with a dress shirt with sleeves rolled up or with the denim jacket mentioned above.
• Change the pattern.
You can do this by wearing stripes, polka dots, or even plaid if you so desire. Just remember to make sure your pattern are opposites to avoid a clash.
• Think vintage.
Keep in mind that the vintage look is incredibly hot right now for both men and women. Pair it with a fedora and you will look ultra suave.
Keep things classy by learning how to tie a bow tie and by incorporating it in your wardrobe as often as you are comfortable with.