XYZ – Explore Your Zipline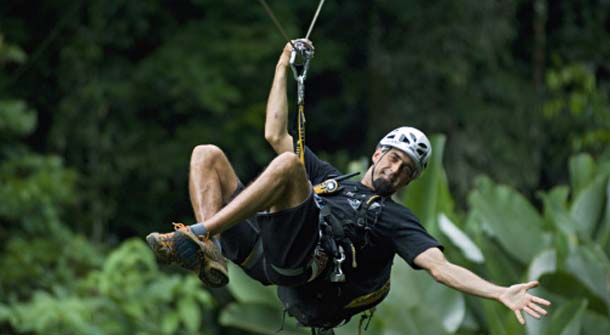 You rode it at the playground as a kid—that squeaky, clunky contraption that promised to help you fly through the air. Didn't matter that you often had to lurch like a contortionist to inch that playground zipline forward—you still felt like Superman, right? If the idea of flying thrilled you then, these grownup ziplines will get you all revved up to take off again. We're taking a peek at five of the world's most amazing zipline tours—whether you want speed, a unique adventure or a pristine natural setting, there's a zipline waiting somewhere out there for you.
Zip Slide 2000 in Sun City, South Africa
The scenery surrounding Zip 2000 doesn't compare to others on our list—you won't be gliding through jungle treetops or above canyons—but scenery is not the reason people ride the Sun City zipline. This joyride is over a mile long and reaches speeds of 100 mph, and claims to be the steepest, longest and fastest zipline in the world. In addition, unlike most other ziplines, the Zip 2000 has you soaring horizontally, face-down, with a set of "wings" attached to your feet that serve as a rudder. The zipline also offers side-by-side tandem rides, so you and your best pal or gal can soar along together.
Sky Trek at Costa Rica Sky Adventures
Costa Rica Sky Adventures offers breathtaking sites few have seen, in two separate parks. At Monteverde Park, you can glide through the treetops of Costa Rica's dense tropical rainforest and get a birds-eye view of the Monteverde hills and the Nicoya gulf. At Arenal Park, you'll sail over treetops, canyons and an active volcano. The company even offers night tours for the most intrepid travelers.
Simatai Zipline in Gubeikou Two, China
This zipline is a bucket list contender for the avid traveler or history buff. The journey begins with a hike or cable car ride up an older, more "authentic" section of the Great Wall of China, and ends with a zipline glide back down. The zipline crosses over Mandarin Duck Lake, and offers a one-of-a-kind aerial view of the Simatai section of the Great Wall, as well as the rolling mountains it traverses.
Soaring Canopy Tours in Durango, Colorado
Soaring Canopy Tours boasts the world's largest, longest and safest zipline tour. The 5-hour-long course features a total of 34 platforms and a combined 1.25 miles of zipline spans. Its longest zipline stretches 1,400 feet and offers guests a spectacular mountainside view, as well as a bird's-eye view of the Animas River. Visitors even get an opportunity to enjoy a gourmet lunch in the trees.
Haleakala Skyline Tour in Maui, Hawaii
First of all, it's Hawaii, where, for the most part, it's impossible to find a square foot of space that's not ridiculously beautiful. Secondly, this zipline tour will actually have you gliding across gulches and through the trees, along the slopes of one of largest volcanoes in the world. The tour features five zipline spans, including one of the fastest spans in the United States.
Most Recommended