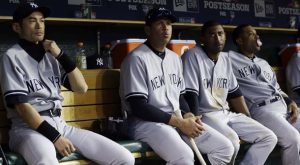 Pitcher Max Scherzer picked up win number 21 as the Detroit Tigers shutout division rival Minnesota Wednesday night, 1-0, to win their third consecutive American League Central title. For just the second time in 19 years, the New York Yankees will miss the postseason by virtue of their 8-3 loss to Tampa Bay.
Scherzer was on fire giving up just two hits all night during his seven innings of work. He received all of the run production he would need in the first when Austin Jackson started the inning with a triple. Torii Hunter then hit an RBI single to score the only run of the game. It was all the run production Scherzer (21-3) needed.
Joaquin Benoit came on in the ninth and picked up save number 24 on the season. Scherzer struck out 10 but did walk a season-high six batters while lowering his ERA to 2.90. He will finish the season with most wins among all pitchers in MLB.
New York failed to nab one of 10 playoff spots when they were mathematically eliminated from postseason contention in their loss to the Rays. With the Cleveland Indians victory over the Chicago White Sox, the Yankees (82-76) will sit home for the first time since 2008. The Yankees suffered through an injury plagued season. Twenty-one different players were part of an MLB-leading 28 stints on the disabled list.
Cleveland currently holds the AL's No. 2 wild-card spot while the Rays, who beat the Yankees, are 89-69 and hold the top wild-card spot. The Texas Rangers trail Cleveland by just one game. The Tigers finish the season with a three-game road stint in Miami beginning on Friday.
Scherzer will have a great shot at winning the AL's Cy Young Award this offseason. He will likely finish second in strikeouts with 240. Scherzer will be in the top five in ERA finishing under 3.00 for the season.