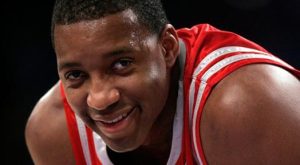 Tracy McGrady, who officially retired from the NBA in August of last year, is attempting to find a second career in professional baseball. The 6-foot-8 McGrady has been working out for months in an effort to make it as a pitcher.
McGrady was a seven-time NBA All-Star playing in the league from 1997 to 2013. He will now try and make one of his childhood dreams come true. McGrady will try his pitching skills with the Sugar Land Skeeters of the Atlantic League, an independent minor league. If the Skeeters' name sounds familiar, it's because a few years ago a 50-year-old by the name of Roger Clemens pitched a game for them.
McGrady is just 34 years old, but battled some injuries towards the end of his basketball career. He claims he is healthy now and has been working out, ironically, with Clemens. McGrady, a right-hander, has been working with Clemens and throwing two to three times per week. His fastball has reportedly been clocked in the low 90s.
After four seasons in Toronto, McGrady was signed as a free agent by Orlando. He played four more years with the Magic and in 2002-03 he was the NBA scoring champion, averaging 32.1 points per game. He wound up in Houston in 2004 and played six seasons with the Rockets. He ended his career averaging nearly 20 points per game, scoring 18,381 points.
McGrady's name came up quite a bit recently as Oklahoma City's Kevin Durant chased his streak of 30-point games. During the 2002-03 season when McGrady led the NBA in scoring, he had a streak of 14 straight games with at 30 points. Durant fell short with 12.
McGrady will report to the Skeeters' spring training camp on April 14. That gives him 10 more weeks to prepare to make his childhood dream come true.