NBA Playoffs – First Round Playoffs Heats Up, No Surprises Yet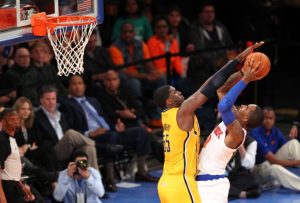 With the first round of the NBA playoffs underway, there haven't been any major surprises and the favorites to advance are beginning to heat up and put away their opponents.
For the Western Conference, the top seed OKC Thunder let go of a 15-point lead against Houston, but Kevin Durant and company held on for a 105-102 win to take a 2-0 lead in the series. The Rockets' James Harden fought valiantly scoring 36 points, grabbing 11 rebounds, and dishing out six assists, but the Thunder just have too much talent and playoff experience for coach Kevin McHale's ball club.
Also in the West, it is no surprise that the San Antonio Spurs have taken a 2-0 lead against the Kobe Bryant-less Los Angeles Lakers. The Lakers just don't have the firepower without Bryant to contest with a guy like Tony Parker who put up 28 points in the Spurs' 102-91 Game 2 victory.
Chris Paul hit a clutch last-second shot that propelled the Clippers to a 93-91 win over Memphis to grab a 2-0 lead in their series. Paul scored 24 points and the Clippers look like the team they were in December when they went unbeaten for the entire month and ended up winning 17 straight games. That spells trouble for the Grizzlies.
The one surprise in the West so far was a Golden State Game 2 win over third-seeded Denver. Stephen Curry, who struggled early, wound up catching fire and finished with 30 points and 13 assists as the Warriors beat the Nuggets, 131-117, in Game 2 to even the series at 1-1. For Golden State, their success relies on their ability to shoot well. If Curry and his teammates are on, Denver is in for a rough series.
In the Eastern Conference, the top two seeds, Miami and New York, have both gone up 2-0. Milwaukee has struggled against LeBron James and the Heat and minus a miracle will most likely end their season soon. The Knicks have played some great defense against the aging Celtics, grabbing an 87-71 victory in Game 2.
The Indiana Pacers, one of the NBA's top defensive teams as well, have clamped down on Atlanta and are up 2-0. Paul George is a rising star who scored 27 points and had eight rebounds in a 113-98 Game 2 win.
Chicago, without star point guard Derrick Rose, evened their series with Brooklyn at 1-1 with a 90-82 win. Nets' point guard Deron Williams, who lit it up with 22 points in Game 1, went 1-for-9 and finished with a paltry eight points in the Game 2 loss. The Nets' chances will revolve primarily around the play of Williams and if his play continues as in Game 2, Brooklyn is in trouble.
Round one of the 2013 NBA playoffs continues through this weekend. Should any of the first round games go to a Game 7, the final day of the play would be Sunday May 5th. Though it's too early to tell, don't be surprised if the first round ends earlier.
Most Recommended