Peyton Manning Named Sportsman Of The Year By SI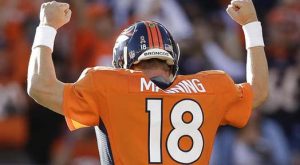 Denver Broncos QB Peyton Manning has been named the Sports Illustrated Sportsman of the Year. In his second season in Denver, Manning has led the Broncos to an 11-3 record with a possible AFC West division title in the balance.
Manning, in his 16th year in the NFL, is enjoying his best and most productive season ever. Through 14 games this season, Manning has thrown for 4,811 yards, the most in his career. He is on pace to throw for nearly 5,500 yards and could pass the NFL record for most passing yards in a season set by Drew Brees (5,476) in 2011. His passer rating of 112.9 is the fourth best in NFL history.
He will most likely surpass his career high in touchdown passes, 49, as well. Manning has 47 with games at Houston and at Oakland remaining. He may also eclipse Tom Brady's NFL record of 50 TD passes in a season. Earlier in the season, he tied an NFL record with seven TD passes in a 49-27 win over Baltimore. In seven of the fourteen games this season, Manning has thrown at least four TD passes.
In becoming the SI Sportsman of the Year, Manning is the fourth NFL quarterback to win the award in the past nine years. Brees won it in 2010, Brett Favre won in 2007, and Brady won the honor in 2005. Surprisingly, Manning is just the eighth professional football player to win.
The knock, of course, on Manning has always been his lack of multiple championships. He failed to win one this year when the Broncos lost to the Ravens in the AFC playoffs back in January. With the Broncos closing in on the AFC's No. 1 seed, Manning will have the opportunity to add another Super Bowl to his resume. He will likely be named the league's MVP when the season ends. It would be an NFL record fifth time he has won the award.
Manning was nominated for the award along with several other well-deserving athletes including Usain Bolt, world record holder in the 100 and 200 meter dashes, David Ortiz of the World Series champion Boston Red Sox, and Jack Hoffman, the young Nebraska football fan who rushed for a 69-yard TD in the Cornhuskers' spring football game this year.
Most Recommended