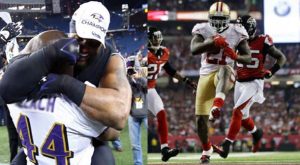 The NFL Division Championship games are all set as Peyton Manning threw two touchdown passes and the Broncos held off a late San Diego rally as the Broncos defeated the Chargers, 24-17, to move on to the AFC Championship game next week. The San Francisco 49ers advanced to their third straight NFC title game with their 23-10 win over Carolina.
The Denver defense was a big factor in the victory holding San Diego to just 69 yards rushing. They also sacked Chargers QB Philip Rivers four times. Manning threw both TDs in the first half. The first was a two-yarder to Demaryious Thomas in the first quarter and the second a three-yarder to Wes Welker in the second quarter.
The Broncos built a 17-0 lead that they took into the fourth quarter. It lasted until Rivers connected with Keenan Allen on a 16-yard TD pass to cut the lead to 10. His second TD, also a 16-yard reception, with 5:43 left in the game again brought San Diego within 10.
The Chargers recovered the ensuing onside kick and proceeded to score on a Nick Novak 30-yard field goal to make it a one-score game. The Broncos then ran the clock out thanks to two third down conversions, one a 20-yard pass to Julius Thomas on third-and-17.
Denver will host New England next week for the AFC championship.
In the NFC the 49ers fell behind 10-6 in the first half but scored dominated the Panthers in the second half en route to victory. Colin Kaepernick ran for one touchdown and threw for another, a one-yard TD pass to Vernon Davis with just five seconds left in the first half.
Frank Gore rushed for 84 yards on 17 carries and WR Anquan Boldin caught eight passes for 136 yards for the Niners. Carolina QB Cam Newton threw for 267 yards, rushed for 54 more, but could only lead the Panthers to the end zone once, a 31-yard TD pass to veteran Steve Smith.
The 49ers win sets up another San Francisco-Seattle match-up in next week's NFC Championship game. The two teams split their their two meetings this year. San Francisco defeated Seattle in the last meeting, 19-17, back on Dec. 8.