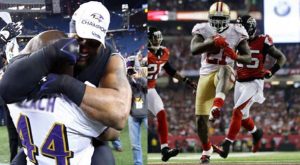 Sunday's NFL division Championship games feature the four best teams in the NFC and AFC and each of the games could go down as some of the best in league playoff history. The AFC game features a match-up between quite possibly the two best quarterbacks to play the game – Tom Brady of New England and Peyton Manning of Denver. The NFC championship may turn out to be the most physical game ever played in the history of the game.
Brady and Patriots head to Denver and will face a Broncos team that they defeated back in November. The Patriots QB led his team to a dramatic 34-31 win to give Denver just their second loss of the season. Statistically, Brady has not enjoyed his finest season, but he has led his team to another AFC Championship minus a star-studded cast surrounding him.
Brady's top receiver this season, Julian Edelman, was a college quarterback at Kent State. TE Rob Gronkowski blew a knee after his return from a wrist injury. Lately, the Patriots have relied on a punishing ground game led by LeGarrette Blount and Stevan Ridley. Blount rushed for a career-high 189 yards and two TDs in the regular season finale against Buffalo and then added 166 and four scores in the playoff victory over Indianapolis.
Denver will have their hands full with Brady and the offense, but the Patriots defense will have to contend with Manning, enjoying his best season ever, and three of the better receiver in the league – Demaryious Thomas, Julius Thomas, and Eric Decker. Both Decker and Demaryious Thomas are over 1,000 receiving yards for the season and Julius Thomas isn't far behind and has 12 TD receptions. Add in Wes Welker (73 catches, 778 yards, 10 TDs) and New England might be in trouble.
In the NFC, San Francisco travels to Seattle in what is becoming one of the better rivalries in the league. Seattle has won six straight home playoff games. San Francisco has won eight straight games including the past two, both playoff games, on the road.
The two teams are carbon copies of each other. Both have physical defenses, young, mobile quarterbacks, and powerful running games. The advantage might go to Seattle who will play at the loudest stadium in the league, CenturyLink Field. During last week's win over New Orleans, the Seattle home crowd helped the stadium register a small earthquake, according to local geologists.
The AFC Championship begins at 3 p.m. Sunday and will be televised by CBS. The NFC title game follows at 6:30 p.m. on FOX.