Floyd Mayweather Jr. Remains Unbeaten, Wins Decision Over Marcos Maidana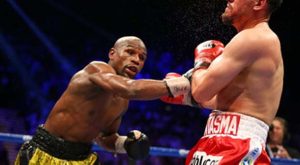 In perhaps what may have been the toughest fight of his career, Floyd Mayweather Jr. won by decision over challenger Marcos Maidana to remain unbeaten and unify the world welterweight titles Saturday night in front of 16,268 at the MGM Grand Garden Arena in Las Vegas.
Mayweather is now 46-0, but had to earn it as Maidana threw punches in flurries. Maidana actually threw more than twice as many punches as Mayweather. The problem for the challenger was that he just couldn't connect. Mayweather landed 230 of the 426 punches that he threw, while Maidana connected on 221 of his 858 punches, just 26 percent.
When it was all said and done, the judges scored the fight for the defending champion, Mayweather. Burt Clements scored the fight 117-111, Dave Moretti had it 116-112, and Michael Pernick scored it a draw at 114-114.
Maidana is now 35-4 with 31 of those wins by knockout. He got the opportunity to fight Mayweather after defeating Adrien Broner by unanimous decision back in December. That victory opened the eyes of the Mayweather camp and landed him the fight.
A native of Argentina, Maidana was very aggressive from the beginning to the end. He and his many fans at the fight believed he had won as the decision was read. In losing the fight, he will earn at least $1.5 million and will also get a take of the television revenue in Argentina.
Mayweather, on the other hand, will earn at least $32 million from the fight. He was the world's highest paid professional athlete in 2013 earning over $80 million. He may continue that trend in 2014 if he can find his next opponent for a fight in September.
Right now, there doesn't seem to be an obvious opponent for Mayweather's next fight. It will be the fourth fight in his six-fight deal with Showtime/CBS. Mayweather will not fight Manny Pacquiao so there is a strong possibility that boxing fans may be treated to a rematch with Maidana.
With the win, Mayweather is now the WBA and WBC world welterweight champion. No fighter in boxing history had ever won to unify belts in two separate weight classes…until last night. Mayweather is the champ in both the welterweight and junior welterweight classes.
Most Recommended