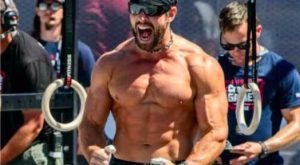 They feature some of the world's best all-around athletes. The 2014 CrossFit Games were held once again at the Stubhub Center in Carson, California, as athletes from around the world competed in 13 different events aimed at proving who is the world's fittest athlete.
Rich Froning, the men's champion the past three years, entered the final day of competition in the lead by just five points. By comparison, Froning held double-digit leads entering the final three events in each of the previous three years and just as he did in those wins, Froning won all three of the events on the final day to claim his fourth consecutive title as the world's fittest athlete.
On the women's side, Canadian Camille Leblanc-Bazinet held off 2012 champion Annie Thorisdottir to claim her first championship. Both Froning and Leblanc-Bazinet will pocket $275,000 for their victories.
CrossFit is the brainchild of Greg Glassman, who founded CrossFit Inc. in 2000. For those unaware, CrossFit is a strength and conditioning program that forces athletes to be good at just about everything. CrossFit workouts will improve strength, flexibility, stamina, speed, agility, and much more. Glassman describes CrossFit as a program that "uses varied movements executed at high intensity across broad modal and time domains."
While athletes in sports such as football or basketball may work out to increase their absolute strength or speed, a CrossFit athlete like Froning will do the same but also work on gymnastic movements, Olympic weightlifting, and more. A typical CrossFit workout might find an athlete perform a 1-repetition maximum of an Olympic lift like the Clean and Jerk. Next, the athlete will proceed to do 5 sets of 5 repetitions of squats using at least 75 percent of their 1-rep maximum. A CrossFit workout will almost always feature a "complex," or set of exercises performed all in order, continuously for time.
Froning and Leblanc-Bazinet had to work through the 21-15-9 complex on Friday, the second day of the four-day Games. Athletes had perform a series of Olympic lifts (deadlifts, cleans, and snatches) followed by a series of gymnastic movements (pull-ups, chest-to-bar pullups, and muscle ups). The first round included 21 repetitions, the second 15, and the third 9. Both Froning and Leblanc-Bazinet managed to win that individual event on their way to their titles.
Froning announced prior to the competition that this would be his last as an individual. The CrossFit Games also features team competitions and offers titles in other age groups as well. The Games began in 2007 and have grown in popularity every year since.